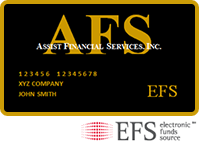 Your Assist Financial Services EFS Fuel Card provides:
Universal acceptance at more than 10,000 Truck Stops in the U.S. and Canada.
Over 1,900 independents and major chains offer point of sale Fuel discounts, without a volume requirement
Online Card Maintenance and Account Management tools including reporting and fuel pricing, at no cost
Interfaces to most third-party software providers
No minimum commitments
Customer-tailored card purchase power
Customer Service is available 24/7 and free of charge
EFS Checks/MoneyCodes are a quick and easy way to send money anywhere, anytime
You are entitled to cost plus pricing at truck stops across the country:

- Ambest
- Sapp Bros
- Quick Fuel
- Speedway
- KwikTrip

In addition you will receive cents per gallon discounts at over 1200 locations:

- TA/Petro
- Loves
- Pilot/Flying J

Low transaction fees:

- $1.50 Network Fuel Card transactions
- $2.50 Cash Only Advances and EFS Checks/MoneyCodes
Assist Financial Services, Inc. partners with EFS to offer fuel cards to our factoring clients. The Fuel Card application is available only online. We can upload funds from your invoices directly to your fuel account.